Outpost
Boys from 6-9
Outpost is a great place for your summers at Woodcraft to start. You'll live in cabins with new friends your age. Each age group lives in its houses, and Outposters have one with a fireplace, bedrooms, and a common room for free time. You share the house with counselors who know the camp inside and out. Outposters do everything at camp, including hikes up our local mountain.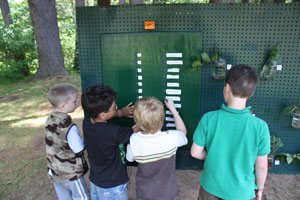 You'll have two whole lakes owned by the camp to use, all kinds of boats and activities, and plenty of places you will go and see. We offer horseback riding at the nearby Moose River Farm, it's a good facility open to all levels of experience with quality horses, trails, indoor and outdoor arenas and expert instruction. You can do your own research about all our activities on these pages.
Outposters are often considered the liveliest group at camp. Lots of Outposters are coming to the camp for the first time, and that means the whole group is doing things that are brand new. You'll  summit an Adirondack mountain, take a canoe trip, participate in the camp Olympics and sit with your friends around a roaring campfire. It all adds up to fun, and for most, the start of many summers of adventure in the Adirondacks.