Traditional Adirondack Summer Camp with Flexible Programming: Adirondack Woodcraft Camps offers a mix of scheduled and choice activities ranging from boating to sports, and from archery to crafts with an emphasis on outdoor leadership and wilderness living skills.
Each morning, the AWC staff publishes a schedule of each age groups' activities for the day. In the afternoon, campers get to choose elective activities where they want to spend extra time. Activities include instructional swim, kayaking, canoeing, archery, nature & wildlife, arts & crafts, sports, mountain biking, and more. Every age group will participate in the planning, enjoyment, and debriefing of 1-3 wilderness exploration trips and/or overnights during their stay at Woodcraft. The length and challenge of each trip grows along with the campers age and skill level. Trips include hiking, mountain biking, fishing, canoeing, and more.
With a focus on individual instruction, campers work towards a series of achievement badges throughout their time at Adirondack Woodcraft Camps. Summer campers of all ages can earn badges in every field from swimming to wilderness skills. Because some achievements take several years to complete, the staff keeps an on-going record of progress from year-to-year. Every time a camper earns a new badge an announcement is made in front of the entire camp, giving the camper an unmatched sense of pride and achievement.
Arts & Crafts
Our eclectic o"fferings are not your father's, or mother's popsicle sticks projects. From basket-making to printing to photography, we engage students to acquire and sharpen sophisticated skills. Taught by career educators, classes also feature painting, drawing, woodworking, jewelry-making, and pottery.
Archery & Riflery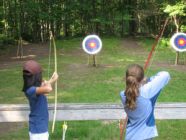 One of our most popular activities, archery and riflery teaches concentration, patience, and safety. Highly trained sta"ff instill best practices in using our ranges.
Initiative Games
Whether it's navigating "The Poison Peanut Butter Pit" or "The Alligator River," these collective games foster problem-solving, group dynamics, and teambuilding. Successes yield valuable lessons in employing inclusiveness and collaboration to defeat challenges.
Nature
A reverence for nature imbues the AWC experience. Whether you arrive from an urban center or from a suburban or rural community, you learn that true environmental stewardship is built on comprehensive knowledge. Trained environmental professionals impart an understanding of nature and ecology that kids can apply back home.
Rock Climbing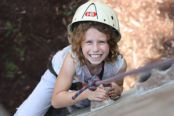 Our expert trainers teach the fundamentals and best practices of safe climbing. Older campers can even progress to tackling nearby Bald Mountain, which features stunning vistas from its summit at 2,350 feet. This optional activity teaches safety, builds strength, and instills confidence.
Sports
Every day has ample opportunities for sports. The options are diverse, fun, and international, ranging from tennis, softball, basketball, and soccer to cricket and rugby as well as Capture the Flag and British Bull Dog. We get many questions about competition level- we are not a competitive sports camp. Many kids come here BECAUSE of that.
Tripping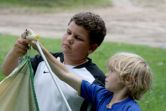 All campers learn outdoor living skills. After all, it's camp! Youngsters learn about safety, how to handle and navigate a canoe, portage, and how to pack for a trip. Other skills include first aid, fire-building and use of stoves, compass and maps, tents and shelters, and camp maintenance. If you are a kid who wants to go tripping and challenge yourself, you found the right camp. This is our thing and we are proud of it.
Waterfront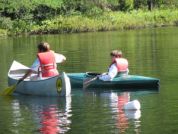 Lake Te-jec-na & Kan-ac-to are the heart of the camps. No gasoline-powered watercrafts are allowed, keeping our waters pure and unsullied. Waterfront activities include swimming, diving, water polo, fishing, kayaking, canoeing, rowing, sailing, and wind-surfing. All activities are supervised by highly skilled and responsible staff" with years of waterfront experience. Lessons are tailored to individual needs and competencies, to ensure safety and measured progress.
Mountain Biking
This increasingly popular activity accommodates every level of rider. With 500 miles of trails adjoining our property, campers can enjoy easy peddling on flat land or gear-pounding on ascents. And our in-house repair shop maintains bicycles and helmets in top condition to meet rigorous safety standards.