Rent a piece of history to create your future.
Make your private event a special one by hosting it at Adirondack Woodcraft Camps. Whether it's an intimate wedding reception, a business meeting or a club event, you'll find a rustic outdoor and camp settings give your event a fascination that can't be created any where else.
Find more information about planning weddings in our cottages and surrounding grounds, lakes and woods below.
We're more than happy to host any wedding, anniversary, or renewal of vows in our picturesque setting.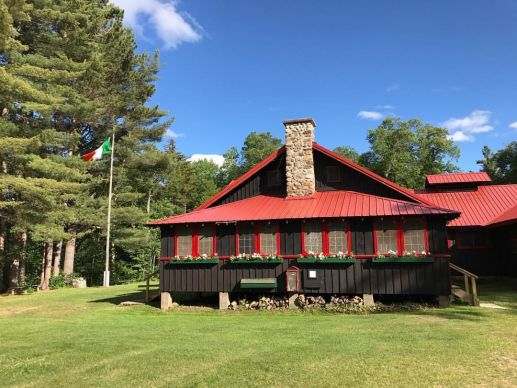 Your group could be a corporate event, family reunion, team building, high school friends.
10 + km of Adirondack Cross Country Ski Trails that wind through beautiful fields and forests with one 2km lit loop for sparkly night skiing! 
Facilities rentals are subject to availability. For scheduling information and pricing, contact Christina Bartlett or call us directly 315-369-6031.
We're located in the Adirondack mountains of beautiful Upstate New York. Our neck of the woods is know as the Fulton Chain Lakes that's perfect for hiking, kayaking, and known for its stunning mountain top views. Though you'll find a perfect slice of untouched nature at AWC, we're just a few miles north of Old Forge New York and Water Safari Summer Resort.