Wenonahs
Girls from 10 to 12
Imagine a village in the woods by the side of a lake and with a great lodge at its center. As a Wenonah you'll be in your own section of that village with the other girls your age. Wenonahs sleep in a ring of roomy cabins, with adjacent Wenonah shower and bathrooms. There's privacy, and it's a short walk to have fun with the rest of the campers.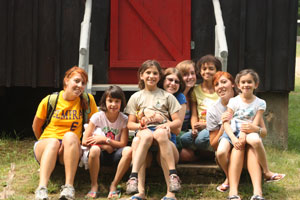 You'll have two whole lakes owned by the camp to use, all kinds of boats and activities, and plenty of places you will go to see. We offer horseback riding at the nearby Moose River Farm, it's a wonderful facility open to all levels of experience with quality horses, trails, indoor and outdoor arenas and expert instruction.
You'll know what it feels like to lead a canoe trip, or summit a wilderness mountain, or spend a relaxed afternoon in the sun on your dock. You'll experience the pleasure of heading home to bed with friends under the stars after you're all warmed by a camp fire.
If you're new to camp, you'll be in good company in this group, where many of your fellow campers will be starting their Woodcraft summers for the first time too.
See more about the activities you'll be part of at AWC.