News from Adirondack Woodcraft Summer Camps, the Best Place to Be this Summer!
Jun 28, 2018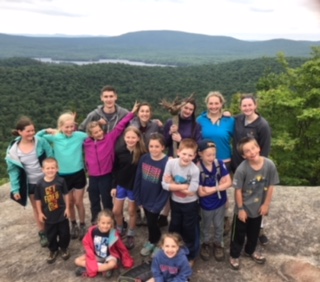 Wow, can you believe we are already 5 days in to summer camp at Adirondack Woodcraft Camps? Time is flying and the campers are having fun. Yesterday was Adirondack Woodcraft Camps Trip Day and all of our summer campers packed their day packs and got to choose from hikes like Bald & Black Bear Mountain, a mountain biking trip on the Toby Trail, and a canoe the Moose River adventure. It was fun for campers to be able to connect with kids from other groups and then get back "home" to join their cabin mates for rest hour and extended General Swim. Are you wondering what General Swim means?! That's Woodcraft's name for choice activity!
Our Trail Campers are are already on their second day of their first trip of the season. They decided on a great hiking trip and will be making their way back into camp tomorrow. Our Auroras set out today on a beautiful two night canoe excursion this morning. We can't wait to hear everyone's trip report when they return! 
Yesterday I caught up with a few campers at the Long House where ping-pong, mafia, guitar playing and other games were happening and I asked about a few of their favorite things that have already happened at camp or are still to come. Here are a few of their answers:
"On trips, making food and cooking around the fire is the best!" 
"I love hanging out in my cabin all wrapped up in blankets next to my friends!"
Swimming, rock climbing, riflery and A-Field made the top of this groups' at camp activity list. 
"Beef Stroganoff is amazing" and apparently so are corn chowder, grilled cheese and other homemade soups!
"I love coming to breakfast when it's chilly and I can warm up with hot cocoa and a warm breakfast!"
(You can see there was a little theme going on here: 1. I'm hungry—this was right before dinner! And 2. We've had those glorious sunny, but chilly, ADK mornings where campers come to breakfast in sweatpants and sweatshirts and will then change and be in shorts and t-shirts by the end of the day!)
That's all for today! The bugle is about to blow for General Swim. 
Happy Greetings from Adirondack Woodcraft Summer Camps
Tags:
Add Pingback
Please add a comment
You must be logged in to leave a reply.
Login »