A rich and treasured history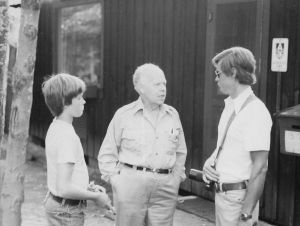 Adirondack Woodcraft Camps was founded in 1925 by William "Chief' Abbott. Mr. Abbott couldn't help but share his own transformative experience. You can stand today at the very spot of land where he envisioned a haven of learning for kids. Chief went on to lovingly guide Woodcraft for more than 50 years. His imprint is still felt here. His passion for teaching young people respect, leadership, and environmental stewardship endures.
In 1976, Chief transferred ownership of the legendary camp to the Leach family. They were a perfect match. As local educators, the Leach family understood the importance of tradition and trust, of small-town values and timeless commitment. Patriarch Jack Leach bought AWC as he neared retirement after 20 years as Superintendent of Town of Webb Schools in Old Forge. In time, Jack's sons, who had spent summers working for Chief Abbott, joined their father in this community investment. John and Dave Leach grew up seven miles from the camp and John continues to oversee the day to day operations.  
A family legacy continues
Family has always been at the heart of Adirondack Woodcraft Camps. Whether it's the Leach family or new generations of returning campers or counselors, we are proudly tied to our history.
Family imbues the whole atmosphere of the camp experience. And what does "family" mean? A nurturing environment that fosters wholesome growth. A safe and secure springboard for the future. A foundation for life's challenges. Our family continues to grow, spinning ever-new stories by the crackling campfire — marshmallows optional.