Allison Eldridge- Program Director
Hello Everyone! It's great to be back at Woodcraft this summer and I'm excited for my third year as the Program Director. I spent many wonderful Summers growing up at A.W.C. as both a camper and a counselor making some of my best friends and sharing amazing memories. I'm a native of the Adirondacks, growing up just down the road from camp, in Indian Lake, NY. Although the past eight years I spent most of the year away from home while attending college, I escape to the Adirondacks every chance I get to hike the trails and enjoy the peaceful setting. I recently finished up my graduate school coursework earning my Masters in Differentiated Instruction and Special Education from St. Bonaventure University after earning my Bachelor's in Childhood Education and History from Elmira College in 2012. This fall I will be starting my third year in Elementary Education as a Third Grade classroom teacher at Genesee Valley Central School in Belmont, NY. This will be my 13th summer at Woodcraft and have no doubts that It will be another great summer. Woodcraft has always been my home away from home so I'm excited to meet all the campers and to be part of another wonderful Summer !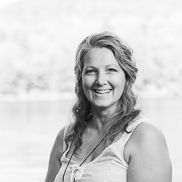 Therá Levi- Kitchen Director
Greetings from the kitchen! I am a native Adirondacker and was introduced to AWC in the late 80's when my oldest daughter was a camper the year they created a girls division. My first year working in the kitchen was 2001 and I have looked forward to June and returning to AWC ever since. I am the mother of 5 girls and all of them have had the incredible experience of being campers and also of working here, three are part of the kitchen staff this year . My 13 year old grandson has been a full time camper since he was 5. Woodcraft is a place where I feel at home.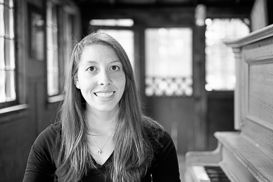 Ashton Eldridge- Waterfront Director
Hello! I am the Waterfront Director at Woodcraft this summer. I first started coming to camp as a Wenonah in 2002, and this year marks my 13th summer spent at camp. During the school year I teach at Indian Lake Central School, as the third grade teacher. I love working with children both inside and outside the classroom and I am excited for another fantastic summer at AWC!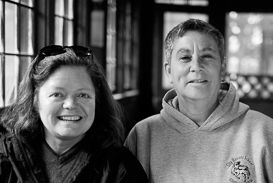 Mary Gerhardt & JoAnn Brenner- Nature & Arts & Crafts
Mary

My camp counselor experience started at a YWCA camp in Wisconsin in the horsemanship division. I also lead wilderness trips for an Audubon center in Minnesota. I was Marine science instructor in the Florida Keys . A state park naturalist in Vermont. An environmental educator in South Carolina. The resident naturalist on a barrier island in Georgia. I have worked for the US postal service. Taught preschool. For a few years I worked at Raquette Lake School( a 2 room school) Presently I teach Earth Science and Living Environment during the school year. For a quarter of century I have called Woodcraft home. I continue to share and enjoy the sense of wonder that your children find when given the chance to explore the natural world. Here's to another summer of wonder! (left)

JoAnn

I am the Arts Director at Woodcraft. This is my 8th year and I am so excited to be back at camp. I hold an MFA from Rochester Institute of Technology in ceramics and I have 22 years of teaching experience. When I am not at camp I am a studio artist making custom tile. I bring my love of teaching and the arts to camp and I am looking forward to another great summer. (right)

Otto Euller
Hi, my name is Otto Euller. I first came to Woodcraft at the age of 10. 10 years later, I'm still returning! I am currently enrolled as a full-time student at Ithaca College in upstate NY. I am majoring in Biochemistry, and hope to someday do some form of cancer research or drug design and development. As a long-time member of the Woodcraft family, I have grown up with the most amazing group of people who all know and care for one another. Now as counselors, we work together as a unit, providing the same love and care that we received growing up.
Justine Kefauver
Hi! I'm Justine and I am SO excited about this summer! I recently graduated from Bennington College with a BA in Visual Arts and Literature. I hope to get a teaching degree in arts education and to become an arts teacher for an elementary school. Camp is my favorite place in the world and I hope to share that with the campers! I'm looking forward to a great summer!
Lucy Mothersdale
Hi I'm Lucy from Liverpool, England! I study fashion at Kingston University! This is my first year at camp. I have worked with children ages 5-11 at a youth theatre. I enjoy hiking and am looking forward to having a great summer at woodcraft!
Leike Homminga
Hi! My name is Lieke Homminga and this is my third year as a counselor at Woodcraft. This year, I will be the Division Director for the Wenonah division. I come from the Netherlands and go to school in Rotterdam where I just graduated with my bachelor degree in International Business Administration. In the Fall, I will be starting a master degree in International Management at Copenhagen Business School. In my free time, I enjoy running, field hockey and spending time with my friends. I can't wait for another great summer at Woodcraft!
Joe Chadderton
Hi! I am from Manchester, England and this is my second summer at Woodcraft. I love soccer and rugby and coach these sports with children ages 6-10 while I'm at home. I am a lively person that loves being in the open air. I am looking forward to a fantastic summer at Woodcraft.
Maarten te Hennepe
Hello, My name is Maarten I am from the Netherlands. This is my second year at Woodcraft. My previous year was 2014. So it was 2 years back since I was last here and I am so happy to be back! All the counselors, the joy, the activities, the trips, and of course, the kids! I am so excited for another great and unforgettable year. And I am sure it will be just as great, or even better than 2 years ago!
Roisin Lacy
Hi, my name is Roisin and this is my first year here at AWC. Having grown up in Malaysia and Egypt I love being outdoors and I'm excited to spend my summer here in the Adirondacks. I am currently studying Bioveterinary Science in Liverpool, and play volleyball and netball for my university.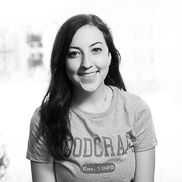 Elise Carney
I have been hiking and camping with my family for as long as I can remember and coming to the Adirondacks was always one of my favorite places to come. I also enjoy skiing and playing field hockey, and I am creating a field hockey team at Kent State University. I will be entering the first year of the nursing program there and plan to become a travel nurse and nurse practitioner after I graduate in 2019. I am extremely excited to spend this summer at Woodcraft with amazing people!
Amy Slack
I'm currently in my third year, studying for a degree in Zoology. In my spare time I enjoy hiking on the Gower (Wales, United Kingdom), reading, and listening to music. I am president of the British sign language society within my university and teach this once a week. I was a sergeant within the Air Training Crops working with children aged 13-20. I'm looking forward to an awesome summer.
Monika Štrajtová
Hello, I'm Monika and I'm from Czech Republic. I recently finished my Master's degree in Economics and exchanged my office job in Prague for spending a summer in AWC and going to Canada later. This is my fourth summer in Woodcraft and third being an Aurora Counselor. In my free time I enjoy sports, adventure racing and being outdoors in general. I'm looking forward to a great summer and a lot of new memories and I will do my best to pass some of my experience and have the kids fully enjoy the camp.

Lauren Ross
Hi, I'm Lauren and I am from the South West of England. I have just completed my first year at the University of Exeter, studying Business Management and I enjoy hiking, canoeing, playing sports and being outdoors. I am excited for my very first year at Woodcraft and for the incredible summer that lies ahead.
Connor Glasser
Hello! My name is Connor and I am from Old Forge, NY. I just finished my first year as a student at Alfred University. I was a long-time camper and winner of the Chief's Knife. I am looking forward to another great summer here at AWC.
Alvaro Sueiro
Hi, my name is Alvaro and I'm from Spain. This is my 4th year at Woodcraft and 2nd as a counselor. I'm currently studying Materials Engineering in the Polytechnic University of Madrid. I love playing soccer and basketball.
Aaron Miska
I completed my undergraduate degree this past May earning degrees in economics and government. I love the Adirondacks and all that it has to offer. I completed my 46er in 2012 and begun searching for new adventures, primarily through new canoeing routes with camp.
Troy Platt
I'm excited to be at Woodcraft for my first year! I plan on becoming an Earth Science teacher after graduating from SUNY Cortland. In my spare time I enjoy hiking, rock climbing, skiing, and playing ultimate frisbee.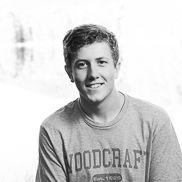 Daniel Holland
Hi! My name is Dan and I am from Adelaide, in South Australia. This is my first year at Woodcraft, and I am currently on a gap year between high school and university. I'm super excited to spend a whole summer in the Adirondacks, and I am passionate about trips in the outdoors, guitar/music, and rockclimbing. I look forward to having an awesome summer!
Peter Diller
Greetings! I started coming to AWC in 2005, when I was eight years old. I spent my first summer with my head buried in The Half Blood Prince and now, in the new J.K. Rowling play, Harry is in his forties. How time flies! Last summer I took my first break from camp - I scooped icecream and saved up for a twelve day solo-hike in Olympic National Park in Washington.
Jimmy Palmer
Hi I'm Jimmy Palmer and this is my 16th year here at Woodcraft. I have been coming here since I was 8 years old. I'm a CNC machinist as well as a 3D printer service technician. I work in optics and with optics machines. I cannot wait to start this summer and share my experiences with your children.
Javier Chacón
Hi, my name is Javier Chacón. I am from Madrid, Spain. This is my second year at Woodcraft, my first as a counselor. I am currently studying Medicine in Madrid. I love sports, specially soccer and rugby. I also like outdoor activities and enjoy hiking or canoeing trips.
Ben Stacey
Hi, I'm Ben I'm from London, England and this is my third year at Woodcraft. I'am currently completing my third year of Aerospace engineering at the University of Hertfordshire. In England I'm a White Water Kayaker with my university and play Canoe Polo as part of the university team. I also coach canoeing and kayaking as part of several clubs across London.
Robin Smith
I love drawing, reading and writing stories. My hope is to be an editor one day and to help other people improve their work as authors and artists. In my free time I usually read or practice my skills in special effects makeup, which I take a lot of pride in. I highly encourage creativity in kids and am looking forward to a great summer!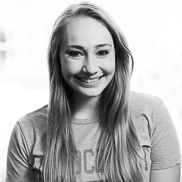 Allison Hanafin
Hi I'm Allison! After spending most of my childhood summers here I am so excited to be back as a junior counselor. I have always looked forward to coming back to Woodcraft as it has become like a second home to me. Over the years Woodcraft has helped me achieve some major goals of mine that include developing better archery skills, learning how to use a map and compass, learning constellations, and hiking many high peaks. I am so excited for this summer, I know it will be a good one!
Alex Levi
Hi my name is Alex! I've been coming to Woodcraft since 2001. I love spending time in the outdoors and traveling. I've been paddling and hiking in the Australian outback, worked on organic farms in Ireland, and worked as an environmental conservationist in the state of California. Of all the places I've been, camp is still my favorite. I'm so excited for this summer!
Chloe Brosemer
Hi, I'm Chloe. I just graduated from the Town of Webb Union Free School and I am attending Wells College in the fall. I have been a camper for many summers and now I hope to have a great summer as a counselor.
Darlys Forbes, RN
I have 20 years of pediatric and 20 years of psychiatric nursing both as an LPN and RN. I have been an elementary school nurse for seven years. I' m a Mom of three, Grandma of six (almost 7).Have been married for forty years and a Great Dane, named Matilda McGuillicutty, lives at our home. I love to learn new things, to read, garden and spend time with my family.
Lisa Hanford
I am from East Syracuse, N.Y. I have resided in Old Forge for the past 29 yrs. with my husband Chuck and two children Chelsea and Charlie. I am employed by the Town of Webb School as a bus driver. I was asked to join the Woodcraft family in 2012 as a member of the AWESOME kitchen staff. When not feeding happy campers I enjoy swimming,reading, bike riding and just watching all the activity here at camp. I love spending my summers here. AWC is my home away from home.
George Hoey
Hi, I'm George. I am super exited to return to Woodcraft this year as a counsilor. I enjoy outdoor sports, music, and the visual arts. I look forward to this summer and all the fun that is in store.
Maria Soto
Hi! My name is Maria and I'm from Madrid, Spain. This is my fourth year here and first as counselor. I'm starting university in September to study a double bachelor of business administration and international relations. My favorite sports are tennis and swimming. I also like spending time with my friends and family and traveling to new places every year. I'm looking forward to make as many memories as possible and make of this the best summer ever!
Tim Lupien
Hi I'm Tim! I'm a junior counselor here at Woodcraft and I'll be going into my senior year of high school. I'm really excited to be back this year as a junior counselor instead of a camper. I always loved going to camp because of all the great activities and, more importantly, the great people. Now I have a chance to facilitate the same great experience for many other kids. I plan to study business administration in college and would like to build my own company from the ground up. I am very involved in the national speech and debate association, attending the grand national tournament for two years now. While I do enjoy such intellectual pursuits, what I really love is the outdoors. I hope that I can share this enthusiasm with everyone here at Woodcraft and make this the best summer ever!
Cole Benoit
I am interested in mechanical engineering and I'm 17 and going into my senior year of high school. Before I was a junior counselor I had several amazing summers as a camper at AWC. I hope I can help your son/daughter have the same experience!
Jack Oaks
Hello, my name is Jack and I am looking forward to starting my fourth year at Woodcraft as a junior counselor. I live in Honeoye Falls, New York and enjoy playing rugby. In addition, I also have a passion for hunting and fishing as well as camping. I am so excited for my first year as a Ranger Post counselor and can't wait for what this summer holds in store.
Harry Drennen
Hey everybody, I'm Harry. I am big fan of the Lord of the Rings and other fantasy novels. When I am not in school I enjoy black smithing and history. I am part of the school choir and enjoy Mongolian throat singing. I love being outside and getting away from the city. I hope to help your child have a GREAT summer!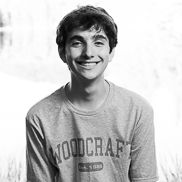 Lu Fenton
I'm Lu, my real name is Lucas though. I'm really into vinyl records and music throughout time and in different genres. Also, I love movies and plan on studying them in college. Watching basketball and playing are also some of my favorite things, the Knicks are my team. Working at camp is great because I get away from the busy city and can relax and take care of kids. This summer is going to be so much fun!

Morgan Levi Bambey
Hallo zusammen! My name is Morgan, I grew up at Woodcraft as a camper and met my husband here in 2011 as a counselor. After having lived in Germany for the past four years, I couldn't think of a better way to celebrate our homecoming than working at Woodcraft!
Max Levi Bambey
Hey everybody! I'm volunteering in the Woodcraft kitchen this year. I used to be a landscaper in Germany, but since my wife and I just moved to the United States and since Woodcraft (I am a former camper/counselor) and cooking have always been very important to me, I'm here to help the kitchen staff cook up some food for your children!